Situated in the Bandera Canyonlands of the Texas Hill Country, Bandera Corridor Conservation Bank (BCCB) is a U.S. Fish and Wildlife Service-approved species conservation bank for the federally endangered Golden-cheeked Warbler (Setophaga chrysoparia, GCW). BCCB provides offsetting conservation credits for habitat impacts associated with land use change, development, and infrastructure activities.
Since 2012, BCCB has provided nearly 4,500 GCW credits to projects receiving authorization under the Endangered Species Act (ESA). BCCB helps projects quickly and successfully meet their mitigation needs for actions requiring mitigation offsets under Section 7 or Section 10 of the ESA.  
BCCB credits can be used to mitigate impacts to GCW habitat in the following 13 counties: Bandera, Bexar, Blanco, Comal, Edwards, Gillespie, Kendall, Kerr, Kimble, Kinney, Medina, Real, and Uvalde. In unique circumstances and with approval of the U.S. Fish and Wildlife Service, BCCB may serve projects outside of this 13-county area on a case-by-case basis (sometimes referred to as a Secondary Service Area).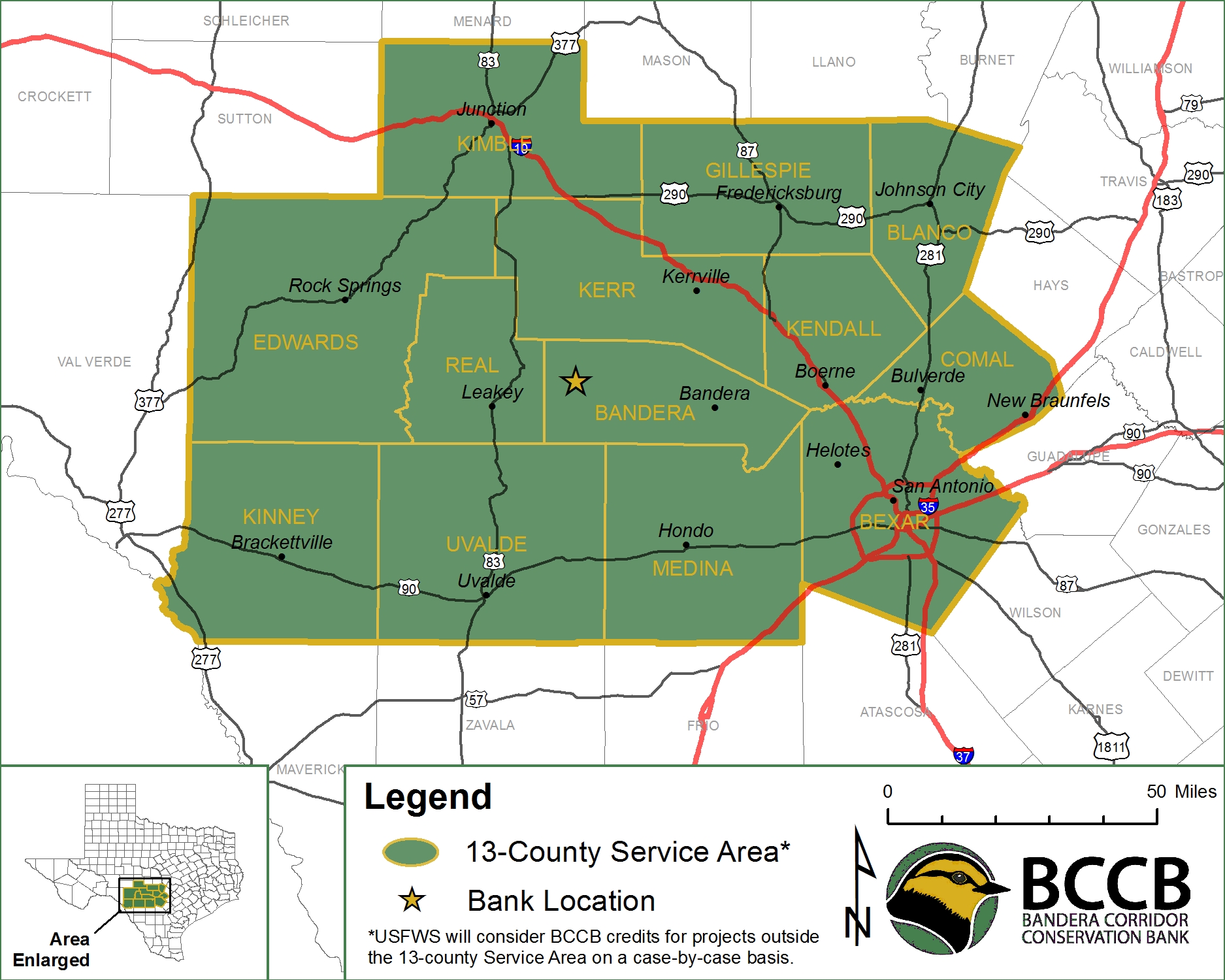 ---

The Bandera Corridor Conservation Bank and its participating landowners were honored as a Texan by Nature certified conservation project in 2019.  The recognition speaks to the commitment of our participating landowners and their dedication to land stewardship for the future.
Texan by Nature was founded by former First Lady Laura Bush to bring together business and conservation leaders who believe our state's prosperity is dependent on the conservation of our natural resources. To learn more about Texan by Nature and many innovative conservation programs occurring throughout Texas, please visit their website: texanbynature.org
---